Maroon
With income from his position as Postmaster-General, TLM-P was able once again to afford a grazing property. In November 1864, after selling other property/properties, he agreed to buy the 20,000-acre Melcombe property, close to his old property of Bromelton. It was not until March 1865, that TLM-P signed a memo of agreement with the Bank of Australasia for the purchase of Melcombe (renamed Maroon) for £3,000 and Heads of Logan (renamed Rathdowney) for £1,200. Maroon would be home to four generations of Murray-Priors over 54 years.

Angella Collyer found that in 1867, TLM-P ?leased Melcombe (it had 60 square miles available for pasture improvement; 16 square miles unavailable, "PP nil') and Heads of Logan (20 square miles available; 16 square miles unavailable; PP nil.) In 1869 he consolidated the two as 'one large property of 100 square miles' then in 1874 he separated them again, calling one property of 54 square miles Melcombe/Maroon and the other Palen. It is unsure, she states, if Palen and Heads of Logan had the same boundaries.1)

Maroon is near Beaudesert in the Logan district, south-west Queensland. Mt Lindesay was on Maroon's south boundary. It was country belonging to the Yuggerabul (or Yugarapul or Ugarapul) indigenous group.2) Evidence of a rock shelter dates their occupation at least back to 1300 BC.3) By 1864 the indigenous owners had been dispossessed and largely decimated though 'tension' continued until the 1880s.4) Originally, the property name was spelt Marroon. The name is believed to be derived from wahlmoorum, which is the Yaggera language name for Mount Ballow, associated with a legendary giant sand goanna.5) Rosa Praed described Maroon in a number of her books, including as the Doondi station in her novel The Head Station.6) Rosa also reminisced about Maroon in a letter to her step-sister Dorothy, 'the view from the Maroon verandah - the old racecourse and paddock and the river with its still deep pools', but also noted that, when she last visited the property in 1893, 'it had all greatly changed'.7) As Patricia Clarke described it, Maroon had rich river flats but in its outer reaches 'the imposing Mounts Maroon, Barney, Ballow and Clunie overlooked wild, thickly timbered rainforest, rocky gorges and ravines, crater lakes, waterfalls, and rugged scrub country.'8)

The following map from Collin Pfeffer's well-researched The Fassifern Story shows Maroon and adjoining properties.
9)

When TLM-P bought Maroon, the area was sparsely settled. Rosa Praed recalled that the family went via Ipswich (then the nearest town), and had to hack their way through the Dugandan Scrub to reach their new home.10) TLM-P paid £3,000 for Maroon and £1,200 for the 36 square mile property, Heads of Logan (Rathdowney).11) The latter was located between Maroon and his eastern neighbour Telemon: TLM-P incorporated it into Maroon station. Maroon came with 110 cattle, 12 horses and some working bullocks, while Heads of Logan carried 600 cattle and 7 horses.12) TLM-P used Maroon for cattle and also imported horses to form a stud there.13) In 1877, for instance, TLM-P advertised the services of Khedive an imported Arab stallion at Maroon.14) With the active assistance of George Butler, he also bred shorthorn cattle; some of these were used to stock Bulliwallah.15)

His timing was unfortunate. TLM-P bought just in time for a prolonged drought. As well, a little over a year after his purchase, the British financial turmoil of 1866 restricted colonial investment and caused a recession.16) Maroon satisfied his desire for land, and provided a rich source for Rosa when writing about Australia, but never bought easy prosperity. It is significant that TLM-P acquired it from the Bank of Australasia after the previous owner forfeited it.17)

TLM-P and Matilda had enough money left over to build a new, red-cedar lined, large home. The 1871 census recorded Maroon as having two houses with 20 people living there, so presumably the original homestead became the workers' quarters.18) By 1880, the local council's rate book valued the buildings at £52.10.19) As with all such properties, there were quarters for the employees, stores for meat and other goods, and workshops. The local Fassifern Guardian described it as one of Queensland's 'most historic homesteads', with 'walls of locally dressed cedar, its impressive fireplaces of Ipswich limestone slabs and its shingle roof'.20) Maroon by this stage was more like a small village. TLM-P's children, his grandchildren, neighbours and relatives lived there and/or visited. As well, there were employees and their families. The result, Nora wrote to Rosa in 1881, no-one could 'go around a corner … without tumbling over a child'21). Sadly the homestead was destroyed by fire in 1947, some 27 years after Thomas B. M-P sold it.22)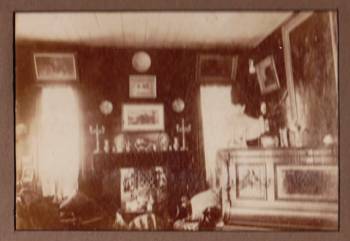 An undated photograph of the drawing room at Maroon.to re do23) The player piano remains in the family, along with the large painting of TLM-P's father, two of the ornamental vases on the mantelpiece, and the three swords and battleaxe hanging on the wall.24)

In the 1860s, with governments resuming land to break up into smaller farms, landowners such as TLM-P secured their (leased) land by buying it freehold. TLM-P had been 'freeholding [i.e. converting to freehold] parts of his run, including 2560 acres on 16 November 1868 alone. In 1876 he allowed what was left of the leasehold to lapse or revert to the government.' From then on, Maroon comprised entirely of freehold land.25)

There was a severe drought in southern Queensland in 1888 and Maroon suffered the usual rural vicissitudes. The major threat to Maroon's viability from the late nineteenth century was the spread of the exotic plant, prickly pear. It was not effectively contained until the mid-1920s with the introduction of cactoblastis.26)

TLM-P's love of art means that we have a number of paintings of and around Maroon. These two are by artist George Hart Taylor27) There are other smaller paintings of the local area by Taylor in the M-P Papers in the Mitchell Library, Sydney.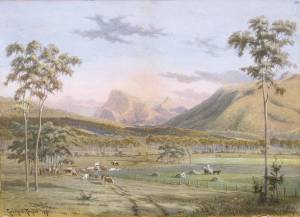 For more paintings of and around Maroon, click on landscapes.

For paintings and sketches of Maroon by unknown artists, click on sketches.
The following photos of Maroon homestead was probably taken in the 1910s when TLM-P's grandson Thomas B. M-P, his wife Lizzie and their family lived there.28)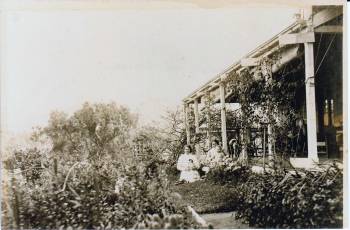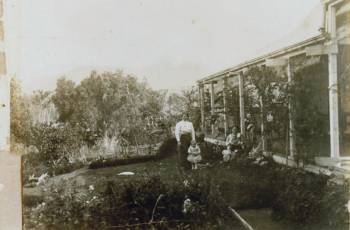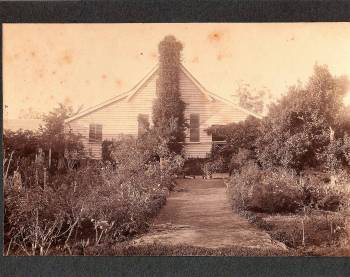 The next photo comes is Lizzie and her young son Thomas at Maroon with the Governor's daughter, c.1915. The most likely candidate is that the governor in question was Sir Hamilton John Goold-Adams as he married in 1911 and had two children. He arrived in Queensland to take up his appointment as Governor of Queensland in March 1915, and left in 1920. From the look on the children's faces, they did not appreciate having to hold hands and stay still for the photograph.29)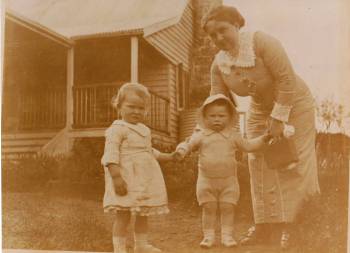 An undated photo of Maroon.30)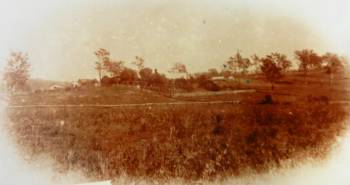 A copy of the 1914 subdivision sale poster from Collin Pfeffer, The Fassifern Story: a history of Boonah Shire and its surroundings31)


This photo from Collin Pfeffer, The Fassifern Story: a history of Boonah Shire and its surroundings32) is of Maroon c.1920, shortly after T.B. M-P sold the property.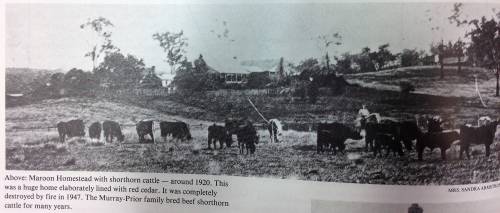 An account book for Maroon c.1865-72 has been donated to the ML.
Note: the Beaudesert Museum has numerous holdings relating to Maroon and the Murray-Prior family, see https://beaudesertmuseum.org.au
==== Rathdowney ==== From 1865, the year after TLM-P acquired Maroon, he bought freehold land to the east of Maroon, on the northern bank of the Logan River, which he combined and named Rathdowney after his ancestors' Irish estate.33)

Acquiring Rathdowney was a group effort. TLM-P purchased 2,560 acres on 16 November 1868, while on 3 January 1876 his eldest son Thomas de M. M-P selected the homestead block of 640 acres under the 1868 Crown Land Alienation Act. Bill Kitson summarises, 'This Act allowed the Government to acquire half of the squatter's run either by resumption or voluntary surrender. This resumed half was then to be surveyed into blocks suitable for selectors looking for smaller agricultural farms. The run holder in return would receive a new lease on his half of the original run as well as other benefits. By this policy the Government was able to achieve their objectives of closer settlement with more people using the same area of land with the added benefit of an increase in rent.'34) The Act limited 'selections' of land to 640 acres and specified that the 'selector' had to have lived permanently on the land and farmed it, before its ownership was transferred to him. Wives and dependent children were ineligible to select land, in what proved to be a somewhat fruitless exercise to prevent what became known as 'dummying', i.e. paying trusted family members or employees to select then to transfer the land when ownership was confirmed. Eminent historian Ross Fitzgerald considers the squatters regarded selectors as intruders and manipulated land regulations to keep the newcomers out. As a result, 'many [squatters] resorted to "dummying" their runs (i.e., lodging land claims using the name of a family member or employee)… Most of the distinguished squatting families of the [Darling] Downs were involved….'.35) TLM-P and his eldest son were no exception. After the Rathdowney homestead block was confirmed as his, T de M. M-P immediately transferred the land to his father. TLM-P acquired more land under the selection act, another 640 acres in January 1880. As condition of acquiring the land, he had two witnesses swear that he had lived permanently there from the date of selection, February 1876. The witnesses were John Worrall and John Endersby, both stockmen in his employ.36)

While TLM-P joined his fellow squatters in circumventing the selection acts, he was sympathetic to the desire for people to own their own land. He was also aware that small holdings rarely provided a living for the selector. As he wrote in his 1888 diary: 'There seems to be a great land hunger. Now the more selections taken up the better but I can hardly see how they will make it pay - the labour and expenses of clearing is great; they deserve to succeed.'(entry for 5 July).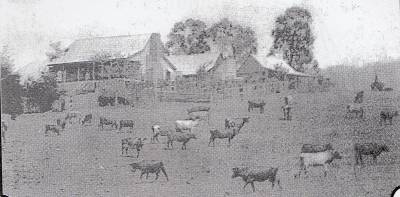 An undated photo of Rathdowney. The home has since been demolished and another rebuilt in its place. In September 1979, when it was inspected under the selection act, TLM-P was said to have lived in the weatherboard house with its shingle roof, a detached slab kitchen and separate slab house for workmen. There was also a garden.37)

TLM-P's stockman John Worrall didn't just act as witness, but himself selected 320 acres to the north of the Rathdowney property. His two witnesses who swore that he had lived there permanently, and thus was entitled to own the land, were John Endersby (the other of TLM-P's employees/witnesses) and Thomas de M. M-P. In August 1879 when the selection process was completed, John Worrall immediately transferred the land to TLM-P.38)

By 1880, the local council's rate book valued Rathdowney's buildings at £30.39) In November 1884, TLM-P sold Rathdowney to William Collins and Sons.40) Nora wrote to Rosa Praed on 3 November 1884, that it was sold cheaply but a necessity: 27/6 per acre for 18,000 acres; £4 per head for 800 stores bullocks and £23 a head for 750 cows.'41) As Nora told Rosa Praed, if TLM-P were '20 years younger it would be madness to sell it yet the constant strain of hard labour is too much for him.'42) Rathdowney was subsequently subdivided and Rathdowney town developed there.43)

---