Jemina Prior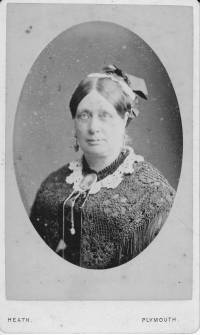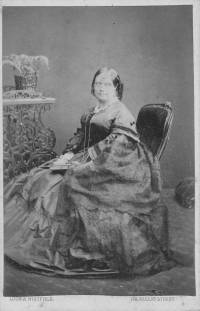 These photos above are also studio ones from TLM-P's album. They are labelled 'Aunt J.' and 'Aunt Jeminia M.P'. The former has a signature on the back dated 1872; the signature ends with Prior, and is possibly JMPrior - Jemina Murray Prior?

Jemina, like her sister Louisa, remained single (perhaps not surprising, given their mother's brief marriage and multiple pregnancies). She was wealthy, pious and generous enough to leave £200 to set up a charity, 'The Prior Gift'. This Gift contributed to the salary of the verger at the Holy Trinity Church, Shirley, Southampton, as well for an annual distribution of food tokens to 36 'deserving poor'.1)
to get from T&T: Insert photo taken by Andrew Darbyshire at Southampton church p. 59 and p.60
---
1)
Andrew Darbyshire. Faced with large scale poverty, philanthropists in the Victorian age tended to be obsessed with restricting aid to those who were 'deserving', that is, poor through no fault of their own and living blameless lives. The latter requirement alone substantially reduced the call on the philanthropists' purses!